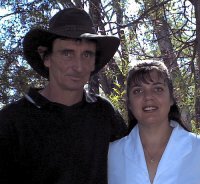 More About Us
Apart from mining, faceting and selling our sapphires, there are a few other things we do at Blue Hollow Mine.

Firstly, we help travellers with information. If you're new to fossicking, or just aren't sure about where you are allowed to go, or if the stones you've found are sapphires, or have any questions about the Gemfields, fossicking or faceting at all, please feel free to come and ask us.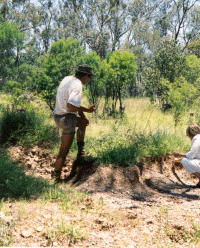 We hire fossicking equipment, and if you are planning to fossick in the Big Bessie area we will show you how to use the gear and get you started so you know what you're doing. Our rates for fossicking gear are the best in the area. For the hire of a willoughby, wash drum, set of sieves, pick, shovel, buckets, water drums and sorting drum, setting up the gear and some initial instruction on what to do, it is only $20 per day or $50 per week. If you only require the equipment without instruction and delivery, it will only be $15 for the day.

Peter can sharpen your picks by forge and temper them. Prices for sharpening vary depending on the size of the pick or crobar.

We also facet your stones with the same excellence we put into our own cutting work. Extra facets (the polished faces of the stone) are always put onto any stone we cut, and very fine 100,000 grit polish used, to increase the brilliance of your stone. You can also get your finished stone set into Sterling Silver or 9 carat Gold Jewellery.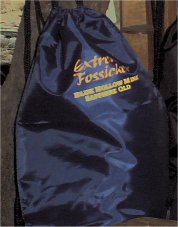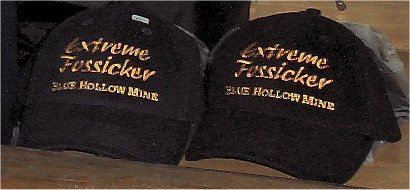 You can buy a bucket of sapphire-bearing wash from us, direct from our underground mine, with a chance of finding a real treasure! Only $15 per 15 litre bucket of wash, with free use of our willoughbies and sieves, full supervision so you won't miss any gemstones and an evaluation of your stones for faceting potential. We are also now selling bags of wash starting at $20 for a bag of sapphire bearing wash from our mine containing approximately 10L of wash and guaranteed to contain a facetable zircon or sapphire, to $30 for a bag containing wash with dirt removed which is originally approximately 25L of sapphire bearing wash and guaranteed to contain a facetable sapphire. Or, for a lasting memento, you could take home a souvenir pack containing a packet of washed gravel including sapphire and zircon chips, a torch, tweezers and decorative glass bottle, to share with family and friends. Souvenir Packs are $25, "Extreme Fossicker" caps are $12.

Occasionally we also run mining or faceting courses. Please contact us for details on these.
Our aim is to make your stay at the Gemfields as pleasant and productive as possible. We want you to leave with happy memories and return again, or send your friends, for the experience of a life time.
Return to Blue Hollow Mine's Home Page