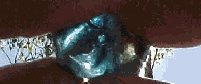 Contact Us
Blue Hollow Mine
PO Box 250
Sapphire Qld 4702
Australia
Phone O/S: +617 4985 4515
Ph. In Aust.: 07 4985 4515



Click on the links below
for more information.


Info on services provided


Sapphire and zircon jewellery


Finding sapphires and zircons


Mining, etc Queensland Gemfields


Maps - Sapphire, Rubyvale


Other local businesses


Stay on the Gemfields


Every miner's dream


Background Information


Stones tourists have found


Tourists out fossicking


Faceting Sapphires & Zircons





Blue Hollow Mine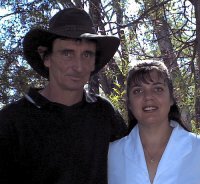 Peter and Debbie Chalmers welcome you to the sapphire fields of Central Queensland, Australia. Our mine is located near Sapphire, on the eastern side of the "Big Bessie" fossicking area. Using the links (to the left) you will be able to find out everything you need to know about fossicking for sapphires and zircons at the Gemfields, see some of the truly Australian gemstones mined and faceted at Blue Hollow Mine that we have for sale in our Gallery, learn about sapphires, our local events and history, wildlife in the area and much more. If you have a particular area of interest you would like to know about, use our on-site search engine.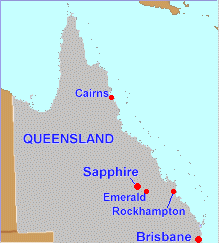 Sapphire is approx. 950km, by road, from Brisbane. (Capital city of Queensland, Australia)

To visit the Gemfields, follow the highway up the east coast from Brisbane to Rockhampton, then the Capricorn Highway west from Rockhampton to the Anakie intersection (42km west of Emerald). Sapphire is 10km to the north.


To make this site as informative and interesting as possible, if you have any suggestions about what you would like to see on this site, please send us your comments.

We love meeting interesting people from all over the world, so if you're out our way don't forget to drop in for a chat, or watch a breath-taking sunset over Blue Hollow Mine.