Local Events
Gemfest
Each year in the second week of August, Gemfest is held at Anakie. As well as displays of unusual and spectacular sapphires from the local area, there are many stalls displaying stones, jewellery, arts, crafts and almost anything you can think of, for sale. There is also live entertainment, competitions, and food and drink stalls. Gemfest will next be held from the second Thursday in August 2005 through to Sunday.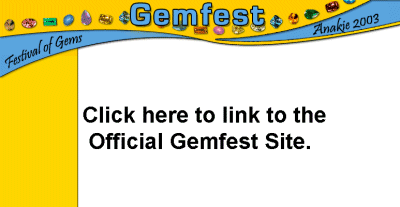 The Wheelbarrow Derby

In this unusual event, competitors have to push a wheelbarrow 18.3km from Anakie, through Sapphire, to Rubyvale. In the barrow is a pick, a shovel and a billy boulder(large rounded rock) weighing approx. 5kg for ladies and approx. 10kg for men. When the competitors reach Sapphire they have to throw out their boulder, shovel up a bucket of dirt and continue to Rubyvale, most of this part of the race being on a dirt side road. How did the organisers thinkup such an interesting event? The derby originated from the legend of Darkie Garnet. It is said he arrived at the Gemfields with all of his worldly possessions in a wheelbarrow. During the years he lived on the Gemfields he made and then frivilously spent a fortune three times over! Then when he moved on to his next destination he once again pushed all his possessions in his wheelbarrow. The date for the next Ironmnan Wheelbarrow Derby has not been set.
Return to Blue Hollow Mine's Home Page